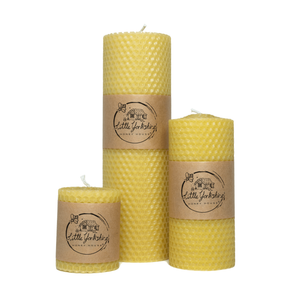 These candles are hand-rolled in Yorkshire using nothing but sheets of 100% pure beeswax with a cotton wick. 
Burning beeswax is said to improve and purify air quality as well as benefit those with asthma and environmental sensitivities. 
Not only that, but these candles smell beautiful due to the natural aroma of honey and floral nectar(please note this is a subtle smell when the candle is lit).
Beeswax is environmentally friendly, non-toxic and burns 'clean' when done correctly.
The trio includes a mini, medium and large pillar.
Before purchasing and using our candles, please ensure you have read the candle safety information page, which can be found here.
Sizes
Large pillar 
The large pillar candle is 20cm tall and approx. 6cm in diameter. It burns for around 40 hours.
Medium pillar
The medium pillar candle is just over 12cm tall and approx. 5.5cm in diameter. It burns for around 18 - 20 hours.
Mini pillar
The mini pillar candle is 6cm tall and approx. 5cm in diameter. It burns for around 6 - 8 hours.
Size can vary slightly between candles due to them being handmade and also due to the possible variation between each batch of wax sheets.
Colour and scent 
The colour of beeswax can range from a pale cream to yellow to almost brown/gold, therefore the colour can vary from the picture.
The exact smell can also vary between batches but is always a delightful floral honey scent. 
The beeswax we use for the rolled candles has been sourced in the UK and is of the highest quality.
Burning your candle
For safety (and to avoid mess) when using these candles you should use a candle plate or other suitable fire-proof flat surface. The candle may drip but this is often avoided by following the tips below/on the card which you will receive with the candle. Do not use an enclosed holder as it will get too hot and the candle walls may split or warp. Never leave lit candles unattended and do not allow them burn right down to the bottom. 
How to make sure you get the most out of your candle
Make sure your candle is on a flat surface whilst lit.
Make sure the wick is trimmed to around 5mm before lighting. If your flame gets too tall or the wick has a build up of carbon at the end then extinguish the candle, trim the wick and relight. 
Burn your candle for three - four hours at a time (too long means the candle may not burn evenly and not long enough can lead to tunnelling).
Rather than blowing your candle out, you should extinguish the candle by pushing the wick into the melted wax and then ensuring the wick stands up straight again, or by using a snuffer.
Always retrim the wick to 5mm before relighting. You can use small scissors or nail clippers if you don't have a wick trimmer.
If the candle is burning more on one side then make sure it's on a flat surface, make sure the wick is central, and make sure it's not in a draft.
'Hug' your candle by gently pushing the walls towards the centre once you've extinguished it. 
These tips will help ensure you get the maximum burn time from your beeswax candle.
For more tips and information see our candle information page. 
Warning information
Always burn within sight and keep away from drafts and vibrations. Keep out of reach of pets and children.
Never burn candles on or near anything that could catch fire. 
Shipping, returns and refunds
Standard delivery costs a flat fee of £3.50 per order. Your order will be sent via Royal Mail or courier, depending on the size and weight of the order. Your order will usually arrive within 5 working days but please allow up to 7 before getting in touch. 
We currently only ship to the UK on orders placed through the website. However, if you are outside the UK and would like to place an order please feel free to get in touch as we may be able to send out small orders of certain items, depending on the weight and value of goods plus any restrictions your country may have.
Our refund policy can be viewed here. 
Trio of candles
They melted away within 2 hours. Expensive for that to happen.
Hi there
I'm not sure whether you got my email but just to reiterate here:
I'm very sorry and also concerned to receive your review. As per the product listing, these three candles have a much longer burn time than 2 hours. The smallest one burns for at least 6 hours, the medium for at least 18, and the large one for at least 30 (usually closer to 40+). These are all conservative timings and in reality the candles can and will often burn for quite a bit longer. They have been thoroughly tested and I continue to test them on a regular basis, including for each new batch of beeswax.
Therefore, if the candles melted away within 2 hours then something has gone majorly wrong and I would really appreciate more information so I can find out what's happened and address it accordingly. In particular it would be great to get some clarification around whether this is just one candle or all of them (as the three are completely different sizes so it's even more concerning that you say 'they' melted away within 2 hours as it as it sounds like this applies to all three candles).
If you do get chance to reply to my email or this comment then I'd love to hear from you.
Many thanks

Louise
Lovely candles
These have yet to be lit but look great and smell beautiful
Quality stuff
Very impressed to be honest, well packaged and a very good product and will be buying again
These are a Christmas present my daughter requested them for 2nd year running