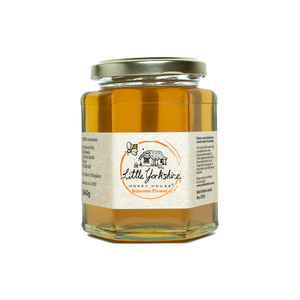 Usually pale or golden in colour, our Yorkshire summer flower honey has a rich and warm flavour. It has been made from the nectar of a selection of summertime flowers such as lime, bramble, rosebay willowherb and lilac. 
It is usually a medium golden colour and can look very similar to either our wildflower or spring flower honey. All our bees are free range so the exact blend of flowers will vary from season to season, and the colour and taste is always unique.
Please note: each batch of honey is a different colour, and can vary from the picture shown. 
Allergy and safety information: Honey is not suitable for infants under 12 months. Honey contains pollen and tree pollen. 
With all our products (the ones we produce ourselves as well as those we stock from other suppliers) even though these are prepared in clean environments and ingredients are always listed, there is always a risk of cross-contamination, so we are unable to guarantee the complete absence of any allergens
Ingredients: 100% pure honey
Granulation information: As with all our honeys, if you prefer a firmer texture we recommend you store your jar in the fridge or somewhere else cool. If your honey sets (this is granulation, all pure honey will do this at some point) and you wish to return it to its runny state, simply loosen the lid and place the jar into a saucepan of tepid water until the honey liquifies. Granulation is a sign of the purity and quality of our honey.  
Shipping, returns and refunds
Standard delivery costs a flat fee of £3.50 per order. Your order will be sent via Royal Mail or courier, depending on the size and weight of the order. Your order will usually arrive within 5 working days but please allow up to 7 before getting in touch. 
We currently only ship to the UK on orders placed through the website. However, if you are outside the UK and would like to place an order please feel free to get in touch as we may be able to send out small orders of certain items, depending on the weight and value of goods plus any restrictions your country may have.
Our refund policy can be viewed here. 
The finest of honey!
I read that a lot of the honey in the supermarkets is impure or not what it says it is. Not this stuff! I refuse to buy honey from big companies now.
I had the summer flowers jar this time and it is just as beautiful as the spring flowers I had last time.
I'll be a lifetime customer.
Hi Jamie
Thanks so much for your lovely review and for your loyal custom! So so pleased to hear you are enjoying the honey.
Best wishes
Louise x
Grandaughter loved it!
My Grandaughter had told me she is enjoying the honey very much. Even her Daddy is having it on crumpets! Very nuitrious and good to know that it is local and pure. A very attractive jar too.
Hi Val
Thanks very much for taking the time to leave such a nice review - so pleased to hear your granddaughter is enjoying our honey! And super happy to read your lovely comment about the jar too :)
Best wishes
Louise
Awaiting comment
Haven't started this jar yet but if it's as delicious as the wildflower honey it will be purchased again
Delicious
I am really enjoying this honey and will definitely re order again.I have only ever before tried supermarket honey before but I can definitely tell the difference in taste and quality and will definitely be back for more.
Thumbs up to The Yorkshire Hive.
Absolutely superb taste.
What a wonderful company The Yorkshire Hive are.
I will defiantly be coming back for more.
Please see my other review below.